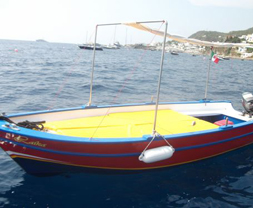 We offer you the opportunity to choose from the many options, listed below, the service that best fulfils your needs:
- ISLAND TOUR OF PANAREA.
During the circumnavigation of the island, which on average lasts for an hour and a half, in the company of our skipper, you can admire the most characteristic and picturesque places of the island of Panarea, offering rocky coasts, marine terraces, rock columns. You will be anchored around the bay of Calajunco having the opportunity to refresh yourselves in its beautiful clear waters.
- ISLAND TOUR AND ISLETS OF PANAREA.
This other service, in addition to the previous one, gives you the opportunity to continue visiting the islets and other rocks that surround the island of Panarea, called Spinazzola, Basiluzzo, Lisca Bianca, Bottaro, Lisca Nera and Dattilo. You will be able to admire the different characteristics among them and have the chance to take a dip in their more beautiful transparent waters.
- RENT A RUBBER BOAT / FISHING BOAT / MOTORBOAT.
You can also rent a boat for the whole day, to enjoy your holidays and the so awaited days off work.